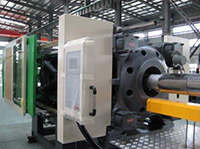 Injection Moulder – HMX Range
Plastic product manufacturing of chairs, buckets, plastic trays, etc… is made with injection moulding machines.  We supply all variations of injection moulding machines from 30T up to 3100T. We also supply the moulds.
The injection moulding machine process:
Plastic material in the form of granules is melted until soft enough to be injected under pressure to fill a mould. the result is that the shape is exactly copied. Once the plastic moulding has cooled sufficiently to harden the mould opens releasing the part. The whole injection moulding process the repeats.
Safety Key